No trip to the Blue Ridge Mountains would be complete without a hiking excursion! Virginia is known for its mountainous landscape, and you can explore the best outdoor recreation our state has to offer here in Natural Bridge! Our town has one of the best Virginia state parks, as well as access to the Appalachian Trail. With so many miles of hiking trails to explore, you won't run out of outdoor adventure during your trip. Read on to discover five of our favorite spots for hiking near Natural Bridge, VA!  
When you're ready to start planning your trip, access our Natural Bridge Vacation Guide! This free resource has everything you need to plan an unforgettable trip to the mountains.  
Get Your Natural Bridge Vacation Guide 
Top 
3
Places for Hiking Near Natural Bridge, VA
At
Natural Bridge State Park
We would be remiss to not have Natural Bridge State Park as out No. 1 hiking spot! This Virginia state park boasts seven miles of hiking trails. These trails are a great way to discover the 215-foot tall natural bridge that was carved out by Cedar Creek, as well as our area's native flora and fauna. Even better, our hotel is across the street from Natural Bridge State Park. Here are two of our favorite hikes in the park!  
1. Cedar Creek Trail
Cedar Creek Trail takes hikers underneath the stunning 215-foot tall limestone natural bridge and into the Monacan Indian Village. The trail ends at Lace Falls, a beautiful 30-foot tall cascade. Be sure to bring your camera, you don't want to forget this view!  
2. Buck Hill Trail
Buck Hill Trail is another great route for Natural Bridge State Park visitors. This two-mile trail winds through the lush greenery of the park en-route to the summit. Along the way, hikers can observe various forms of wildlife as well as the changing topography.  
3. Appalachian Trail – Petites Gap
Once you conquer the trails at Natural Bridge State Park, head over to Petites Gap along the Appalachian Trail. This 9.3-mile trail leads to the James River. Along the way, enjoy 1,364 feet in elevation gain as well as spectacular views of the surrounding foliage. This trail is rated as "moderate" so be sure to wear proper hiking boots and bring along plenty of water and snacks!  
Rest Your Legs at the Natural Bridge Hotel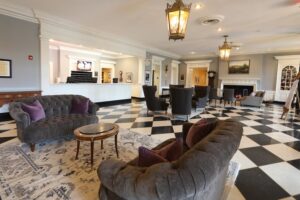 It's easy to explore the best hiking near Natural Bridge, VA, when you stay at our historic hotel. Start by reserving our Natural Bridge 2-Night Adventure Package. This special vacation package includes a two-night stay for the entire family (up to two adults and two children), breakfast each morning, and four tickets to the Caverns at Natural Bridge, Natural Bridge State Park, and Dinosaur Kingdom II. Use your tickets to Natural Bridge State Park to explore Cedar Creek Trail and Buck Hill Trail! 
Then, come back to Natural Bridge Hotel to rest your legs. We offer comfortable Main Inn Rooms, Premium Second-Floor Balcony Rooms, Guest Rooms on Cottage Hill, and Veranda Rooms. With more than 150 rooms to choose from, you're sure to find one that suits your needs!  
Check our availability to start planning your trip to Natural Bridge!