Need a get out of the city for a while? Lucky for you, Baltimore isn't far from the Blue Ridge Mountains of Virginia! Our peaceful oasis nestled in the beautiful Shenandoah Valley is the ideal place to unplug from the stress of everyday life. Come see what it's all about with a trip from Baltimore to Natural Bridge. 
When you're ready to start planning your trip, request our free Natural Bridge Vacation Guide. This online guide is filled with local recommendations on what to do during your trip to our area! 
Why Baltimore to Natural Bridge Is the Best Getaway
The Route
The easiest way to get from Baltimore to Natural Bridge, Virginia is to drive. The fastest route should take you about four hours but of course, depends on traffic. You'll start by taking Interstate 95 South. Once you're near Washington, D.C., take exit 27 to get onto I-495 West. Then, you'll travel about 20 miles until you get to exit 49. Take the exit to merge onto I-66 West. Travel 65 miles and take exit 1A to merge onto I-81 South. From there, it's mostly a straight shot for about 120 miles. To get to the Natural Bridge Hotel, take exit 180A onto US-11 South toward Natural Bridge. After about three and a half miles, you should see the hotel on the right!
Things to Do
There are so many reasons why a trip to Natural Bridge is one of the best getaways from Baltimore! For starters, you'll find so many things to do for people of all ages. Couples and solo travelers can enjoy hiking near Natural Bridge, VA. Or, spend a day of your getaway exploring all the best things to do in Roanoke. From amazing dining to nearby wineries, there are plenty of ways for adults to explore the Natural Bridge area. 
If you're traveling with kids, you're in luck! There are many family-friendly activities in Natural Bridge, that everyone will enjoy. Explore Natural Bridge State Park for some outdoor fun with the family. You can also view exotic animals at the Virginia Safari Park! Take a drive through this 180-acre park to observe several species of free-roaming animals like giraffes, kangaroos, and more! 
Don't forget to browse our Natural Bridge vacation packages before you book. Our specials and packages highlight these activities and more, so you don't have to spend hours planning and booking tickets. We do it all for you! 
Where to Stay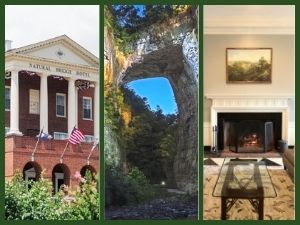 Make our hotel your homestead during a trip to Natural Bridge. The Natural Bridge Hotel and Conference Center features four room types including Main Inn Rooms, Premium Second-Floor Balcony Rooms, Guest Rooms on Cottage Hill, and Veranda Rooms. Any overnight stay at the Natural Bridge Hotel also comes with access to our hotel amenities.  
Check our availability to start planning your trip from Roanoke to Natural Bridge!